Weekly Newsletter 01/12/2022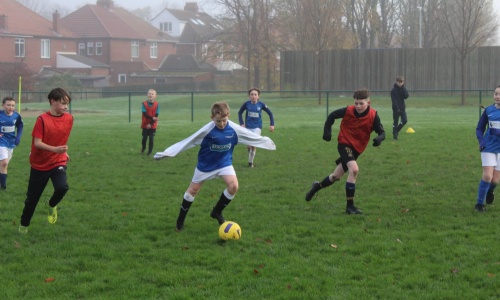 We hope everyone is keeping well and enjoying the World Cup, if you are a football fan. The young people are certainly enjoying post-match discussions!
We have just three weeks left of school and remember the last day (23rd of December) is a training day for staff, so school will be closed to pupils.
Primary Partner Event
On Wednesday 90 pupils from Falla Park, Windy Nook, White Mere, Bill Quay, Brandling and The Drive primary schools took part in a sports event. They were supported by the PE team along with 14 of our fabulous HG student helpers. The event was a great success, and we are so proud of our students for working so well with the younger children.
Children North East Parent and Carer Event
This week the charity Children North East guided parents and carers through the first of a two part session focused on helping parents to support their children with anxiety. The session will also explore school avoidance, conflict resolution and understanding teenagers. If you are interested in the next training sessions after the holidays please contact Mrs Mitchell our SENDCo. The feedback from the first session was very positive and hopefully very helpful.
Photography Competition
Back in September the photography students in Year 11 heard from a local photographer Lewis Arnold about his career which ranged from photo journalism to filming and photography of surfers predominantly around the north-east to raise awareness of environmental issues. The students took part in a competition and the winners are:
1st place - Omar Jawish
2nd place - Molly Brown
3rd place - Sophie Colledge.
Well done to everyone who took part as well as the winners, the standard was very high and clearly showcased the talents and skills of all involved.
Future Skills Questionnaire Compass+
This term students will be completing the Future Skills Questionnaire (FSQ). This will help us evaluate the school's careers programme, plan future careers activities and target students who may need additional support.

Students will complete the 15-minute questionnaire which asks questions on their career related knowledge and skills. This should be an enjoyable activity for students and encourage them to begin thinking about future careers and next steps after school.

We use a third-party tool called Compass+ to administer the questionnaire. All student data is processed in compliance with General Data Protection Regulation (GDPR) and you can find more information about how Compass+ collects, uses and stores personal data in this privacy notice for students.
How it works:
Students log in to their HGA STUDENT EMAIL using outlook open the email from Compass +
Your child has been provided with a link through their HGA student email account, simply click on the link.
Complete the future skills questionnaire - Prompt your child to complete their questionnaire.
If you wish to know more about the careers programme in school and/or would like to get involved please contact Mrs Bell [Careers Leader]. claire.bell@consilium-at.com
Morrisby Careers Information for Parents
As a school we have decided to invest in Morrisby Careers for each pupil at Heworth Grange.
Empower Your Child and begin a journey of discovery together, exploring subject, course and career options tailored to your child.
Morrisby Careers provides all the research tools needed to help students discover the world of work and pathways forward. These include subjects of further study, detailed career information (including LMI) and a comprehensive directory of higher courses, institutions and apprenticeships. This is an independent-personalised programme
Discovering their future together
Self discovery , We help your child understand their strengths and the sort of study and careers options that will suit them.
Recommended study paths, Morrisby's study suggestions will give subject ideas based on strengths, interests and personality.
Career suggestions - We ensure that subject choices keep doors open, and that job suggestions are suitable.

Applications guidance Support with college, sixth form, apprenticeship, university and job applications.

Action planning - Set goals and targets to keep your child accountable and help them achieve their ambitions.
Careers advice and support, Morrisby helps with decision-making at all stages of the career journey. -Supporting your child on their career journey
Understanding what options are available to your child after they leave school can be difficult. But Morrisby can offer inspiration and guidance.
The lifetime login to Morrisby Profile means your child can not only plan for their next academic step but they can also manage future career changes, ensuring their journey is enjoyable, supported and fulfilling.
Discover the right path together - Morrisby profiles allow students to grant 'parental access' to a trusted adult, meaning you can join your child on their career journey.
With information about subject choices, courses, apprenticeships, colleges, universities and international opportunities, you can make important decisions.
How it works
Join Morrisby
Log in to your HGA STUDENT EMAIL – using outlook
Your child has been provided with a Morrisby code through their HGA student email account, simply sign in using those details.
Complete the profiling lesson assigned - Prompt your child to complete their profiling assessments and explore suggestions together.
Follow up, discuss your child's ambitions and add goals to their action plan
For further information take a look at the link https://www.morrisby.com/parents Or contact Mrs Bell: Claire.bell@consilium-at.com
If you require support of any kind please email Mrs Bell, and we are running a co-curricular careers café on a Thursday 2.45pm-3.30pm should your child need support or access to computers.
We hope you all agree this is a fantastic resource. This will support all children with their careers provision in school and outside of school to invest in their future careers and opportunities available.
Team HG needs you!!
Sadly, our attendance took a dip this week, and we really must redouble our efforts to ensure students attend. We have lots of learning still to do before the Christmas holidays and lots of lovely activities to be part of in the build up to Christmas. Please make sure your child attends school every day - the attendance rewards are still ongoing and remember - you have to be in it- to win it!!