Music
Curriculum Intent
Our curriculum vision applies to all our young people, regardless of background, gender, sexual orientation or ability.
Our young people will develop a life-long love of learning through our rich, broad and balanced Arts curriculum and expert delivery. The Arts reaches people in every stage of their life whether it is through music, art, dance, drama or film. It allows them to explore and express emotions, either by providing a mirror to their life or as an audience. We will endeavour to immerse the pupils in authentic, challenging and practical Arts experiences.
All students at Heworth Grange School are without exception entitled to a world class education that is holistic, ambitious and aspirational. The Arts offers windows into worlds and cultures that young people may otherwise never experience. We are committed to providing a curriculum that offers opportunities both within and beyond the classroom that allow pupils to explore and develop their talents and interests in the Arts.
It is vital that we prepare our young people so that they are empowered to become engaged positive and respectful citizens through a dedicated focus on professional development. The Arts encourage an environment where creativity, independent thinking, dedication and confidence are nurtured and supported and where students are comfortable to demonstrate passion and self-expression and be proud to share their work.
We are responsible for ensuring our young people are confident to pursue ambitious next steps in education, employment or training which will support their future careers. It is our continued aim to provide inspirational and aspirational experiences with "real world" Arts practitioners, enlightening young pupil to the vast array of career opportunities the Arts offers. Our curriculum is designed to allow pupils to benefit from the Arts regardless of their future career through opportunities to develop confidence and communication skills.
Knowledge and skills
Through our curriculum, students will:
Build knowledge and understand how concepts and skills link between topics and subjects The fundamental knowledge of performing, composing, listening and understanding are woven through every topic. The curriculum is arranged so that it allows students to continually increase their technical ability in their areas.
Develop confidence in communication skills and have opportunity to critically question and debate and perform. Music is fundamentally a form of communication and students will perform and compose throughout the curriculum. Development of their technical ability will further their confidence in performance. Analysing and evaluating pieces of music and how composers have achieved communicating with audiences in different settings and for different purposes with further their own composition skills.
Develop a love of reading and the skills to read fluently, having opportunity to explore wider significant and exclusive texts We will ensure key terminology is spelt correctly and links made to their origins. Key terminology will be linked with aural examples to allow pupils to connect their understanding with its use.
Learn to self-regulate and work independently as well as collaboratively. Music provides an opportunity for pupils to self-manage and develop resilience and determination through rehearsal of performance pieces and practical composition work. This is often in an ensemble setting allowing pupils opportunities to be open-minded and respectful towards each other
Learn about the world around them and inclusive historical contexts. Music is an expression of people, culture and times that students may never get to experience otherwise. Our curriculum is designed to further their understanding of music they experience every day whilst opening doors to new styles and genres they have not yet discovered. Whilst we are unable to cover every style of music we endeavour to ignite a curiosity in students that they will explore further independently.
Will have the opportunity for deep thinking and to get into their 'flow'. This will be especially encouraged through self-led rehearsal time for performances and compositions. This may require preparation over many weeks either independently or in a group, with accountability to themselves and their group members for quality of the final outcome.
Develop strong mathematical fluency. Music and maths are intrinsically linked – a sense of beat and pulse underpins nearly all music. Students will be encouraged to experience this and develop their sense of timing and rhythm through all aspects of performing, composing, listening and understanding.
Curriculum Overview
Click on the document at the bottom of this page to view an easy read version of the full curriculum overview
---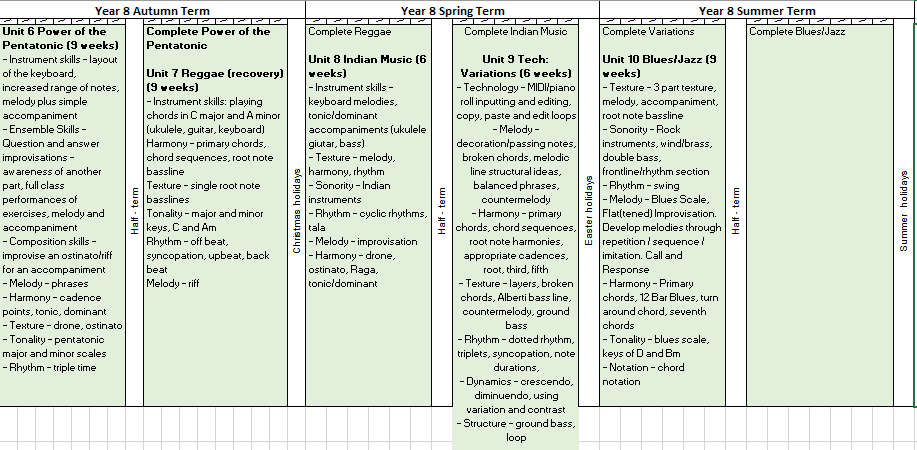 ---
---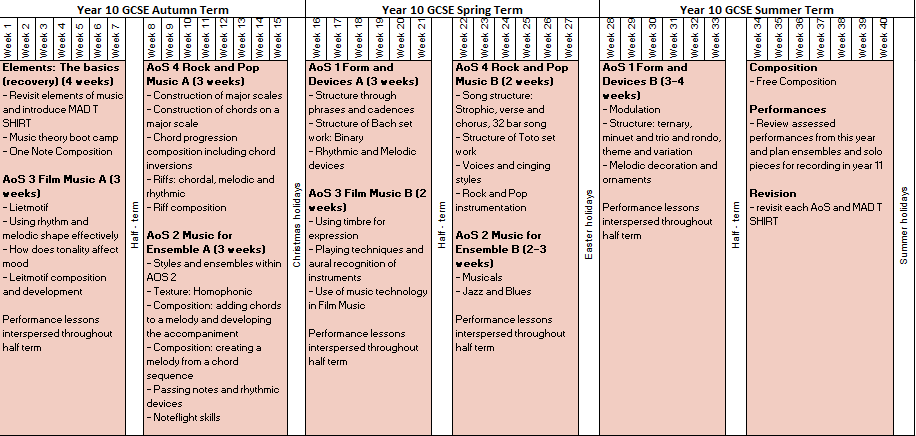 ---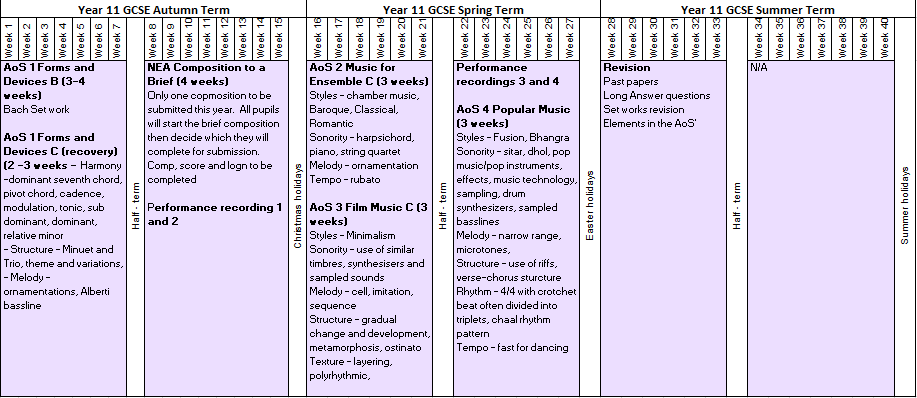 GCSE Music
In the Music department we offer two different courses:
Whichever option you choose, studying music allows you an opportunity to take part in a practically based subject, explore new and different styles and develop your creativity.
Music qualifications are highly regarded by higher education and employers alike as musicians are trained to work methodically and to be self-disciplined. In addition to developing music-based skills, students also develop many general skills such as creativity, independent learning, research, teamwork, planning, and problem-solving.
Overview
This is a course for people who enjoy playing an instrument or singing. You will have the chance to develop your performance skills, create your own music and broaden your listening skills by investigating new styles and composers. Pupils on this course will receive free lessons on their instrument or voice within school in addition to their usual GCSE lessons to allow them to prepare for the performance component. It is also recommended that pupils take part in one of the bands/groups that meet and rehearse in the music department to help develop their ensemble playing, another essential element of the course.
Topics
You will explore through listening, analysis, performance and composition work, the musical elements and devices associated with 4 Areas of Study:
Forms and Devices
Music for Ensemble
Film Music
Rock and Pop
There are two set works that you learn about in detail:
Badinerie by J.S. Bach
Africa by Toto
Course Structure
Your grade is awarded through a combination of controlled assessment and an exam:
Component 1 – Performing Music – 30% - 4 minutes of performance.

During the three years you will prepare several performances, both solo and ensemble (group) pieces. This will mainly be with your instrument/singing teacher. The final performances are recorded in school and sent to the exam board.

Component 2 – Composing Music – 30% - 3 minutes of composition.

You will be guided through the process of creating your initial idea, developing it into a full piece and producing a score and recording for it. One composition will be in response to a brief (idea) set by the exam board and the second is a free composition.

Component 3 – Understanding Music – 40% - 1½ hour exam.

You will hear unfamiliar music from the four areas of study as well as the two set works that will have studied during the course. You will be required to answer questions on the musical elements you can hear (melody, harmony, timbre, texture, tempo, and dynamics) as well as about the context and understanding the intended effect of the music.
Additional Information & Who to Contact
Click here to view the GCSE Music Specification
If you require any further information or have any questions, then please contact Mrs Anderson on heworthgrangeenquiries@consilium-at.com