History
'It's important to study history if you want to be an intelligent citizen in a democracy.'
- Eric Foner, American Historian
Curriculum Intent
Our curriculum vision applies to all our young people, regardless of background, gender, sexual orientation or ability.
In history our young people will develop a life-long love of learning through our rich, broad and balanced curriculum and expert delivery. They will access a rich tapestry giving them the knowledge and understanding of these islands as a coherent, chronological narrative from pre-1066 through topics such as ancient medicine, to 20th century history such as the World War One and Two, the Holocaust and the Cold War.
Students will examine how people's lives have shaped this nation through topics such as Migration from Anglo-Saxons to Windrush and how those groups and societies have influenced Britain. They will look at how Britain itself has influenced the wider world by looking at topics such as Empire; the impact of Britain specifically on India and the role of the North East in World War one.
History students at Heworth will understand significant aspects of the wider world through a clear and sequenced curriculum from ancient and medieval worlds in year 7 through the Renaissance in year 8 to the more modern in year 9. They will study the most significant periods of history; the expansion and dissolution of empires; characteristic features of past non-European societies such as African societies, the Islamic Empire, The Middle East and Native Americans. Their studies will encompass both the achievements and follies of mankind from surgical developments in World War One to significant historical events like the Holocaust. Students will examine the causes of such events and the impact that they had in the wider historical context.
All history students at Heworth Grange School receive a world-class education that is holistic, ambitious and aspirational. The history curriculum at Heworth Grange ensures that all students have the ability to achieve great depths of cultural capital through the gaining of historical perspective.
Our students will understand their roles in the school, local, national and international societies of which they can be proud active members of.
Students will study diverse cultures of the past and present such as the Native Americans or Industrial miners, build empathy and understanding of their experiences in order to make comparisons with their own. Preparing our young people so that they are engaged, positive and respectful citizens. Our curriculum will act as a mirror and a window. Students will see themselves in it, and they will see other people's also.
Our students will understand their region's role in history by including it a majority of our topics.
At Heworth we ensure that students are consistently developing the key skills needed by giving students the opportunity to develop their understanding of key historical concepts and skills such as change, cause and consequences, and significance and use them to make connections, draw contrasts, analyse trends, frame historically-valid questions and create their own structured account, including written narratives and analyses. A great example of this would be the changing nature of kings unit. Here students study who has the power in England from the medieval to the renaissance periods, considering concepts such as monarchy, government and religion. Throughout this unit they study the local, national and international aspects of these changes considering cause, consequence and significance. The unit also links nicely to others such as empire and revolution enabling students to make clear comparisons, connection and contrasts and reach their own historical judgements.
Through our challenging and rigorous curriculum topics at KS3 and KS4 and the development of historical skills such as analysis, judgement and debate we ensure our young people are confident to pursue ambitious next steps in education and life. To enable this the history department at Heworth are committed to ensuring the development of literacy at Heworth. Supplying all students with subject specific tier two and three vocabulary and equipping students with the literacy skills to engage with up to date scholarship and form their own historical interpretations.
Knowledge and skills:
Through our curriculum, students:
Build knowledge and understand how concepts and skills link between significant historical topics and concepts such as 'empire', 'war' and 'government'.
Develop confidence in communication skills and have opportunity to critically question and debate key aspects of history and historians.
Develop a love of reading and the skills to read a wide range of scholarship.
Engage with interpretations, learning how historians form interpretations, form their own, why they differ and why the historical process is an ongoing journey.
Become confident working with contemporary material and study significant texts such as the Domesday Book or Magna Carta. They will analyse archaic language in order to develop their understanding of the laws and legislation of the past. They will critically analyse a variety of written texts to learn more about what life was like for people of the past.
Learn to self-regulate and work independently with clear guidance and support as well as collaboratively through pair and group work as well as class debate.
Students will learn about the past of the world around them and inclusive historical contexts. For example they will study the British Empire and the impact it had on other peoples. They will examine the history of other societies such as America including Native Americans, colonialism and the independence of America, African life before, during and after slavery and the impact of the British in the world. They will study the history of the British Isles from ancient medicine in the Stone Age to the Industrial Revolution. They will also study local history including castles of the North East, the role of Tyneside during the war and the importance of the North East during the Industrial Revolution.
Will have the opportunity for deep thinking through challenging topics, concepts and tasks and to get into their 'flow' through engaging lessons encouraging a passion for history.
Curriculum Overview
Click on the document at the bottom of this page to view an easy read version of the full curriculum overview
---

---

---
---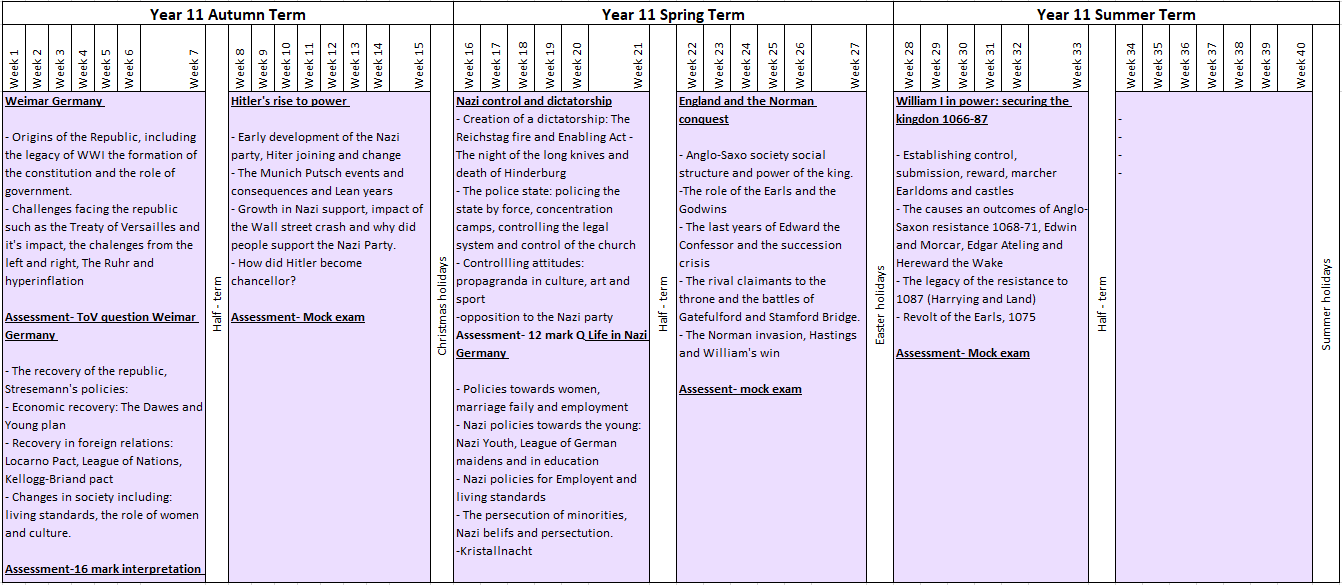 GCSE History
Overview
History is an engaging subject that is well respected by many colleges, universities, and employers. We provide a varied and interesting GCSE curriculum that also offers the opportunity for students to develop skills including the ability to communicate, how to express and explain complex ideas, analytical skills to help students understand information and viewpoints and how to form well-supported arguments. History students can access a diverse field of future careers; graduates often go into areas such as Law, Journalism, and Politics or into direct historical roles such as Archaeology or Museum and Heritage Management.
Topics
Thematic Study:
Medicine in Britain, 1250- Present Day Students will study the development of thinking about the cause and spread of disease in Britain from the medieval era through to the modern period. We will also study how public health changed, the development of cities and the creation of the NHS. There is a separate enquiry study into injuries, treatment, and surgery in the trenches during the First World War that will encourage students to use source evidence from that time period.
British Depth Study:
Anglo-Saxon and Norman England: 1060-1088 this unit is an opportunity to study in depth a fascinating period of British history. Students will study Anglo-Saxon society and government, including the powerful Godwin family and the Kingship of Edward the Confessor. They will study the reasons for the crisis in 1066 and the three battles that decided the outcome: Gate Fulford, Stamford Bridge and Hastings. Students will then go on to examine the course of the Norman Invasion, analysing how William the Conqueror subdued England. Finally, pupils will compare the two systems of government and decide to what extent the Normans revolutionised England.
Period Study:
The American West c.1835-1895 A study of American history during a crucial period. They will consider the lifestyle of the Plains Indians and, over a depth study of sixty years, explore how that lifestyle was changed by the different groups arriving and settling in the West. We will also consider some of the most iconic images of the Wild West, such as cowboys and gunslingers.
Modern Depth Study:
Weimar and Nazi Germany, 1918-1939 This unit allows students to learn in much more detail about historical events with which they may already be familiar. We will study the political troubles in Germany following the First World War, the uneasy peace between World War I and II and the rise of the Nazi Party. A strong element of this unit is life in Germany under Nazi control, including methods to control the population, control of social aspects like literature, art and propaganda, and the persecution of minority groups.
Course Structure
This GCSE is entirely examined – there is no longer a coursework element. Students sit their units across three exam papers at the end of Year 11. All students are entered for the same exam – there are no tiers of entry.
Paper 1- 1 hour 15 minutes: Medicine in Britain, c1250-present and The British sector of the Western Front, 1914-18: injuries, treatment, and the trenches.
Paper 2- 1 hour 45 minutes: Anglo-Saxon and Norman England c1068-88 and The American West, c1835-1895.
Paper 3 - 1 hour 20 minutes: Weimar and Nazi Germany, 1918-39.
Additional Information & Who to Contact
Click here to view the History Specification
If you require any further information or have any questions, then please contact Mr Graham on heworthgrangeenquiries@consilium-at.com