Anti-Bullying
At Heworth Grange, we believe the key principle to everything we do in school is to create excellent, mutually positive relationships between all within our community. Where students, staff, parents, and other members of our school community feel safe and confident. This is underpinned by our four core values:
No Islands
High Expectations
Every Child, No Expectations
Engaging Learning.
Our aims are:
· To provide a safe and secure environment for all children in our care.
· To create a happy atmosphere in which students, parents, and staff work together for the welfare of the students.
· Everyone is mutually valued and respected regardless of gender, race, sexual orientation, beliefs, or ability.
· To encourage children to adopt values in order to develop a sense of self-discipline and to take responsibility for their own actions for themselves now and throughout their lives
How to contact us
Any concerns regarding bullying should be raised initially with the student's Head of Year.
Contact the school on 0191 421 2244.
Year 7 Mrs Benson
Year 8 Mr Maynard
Year 9 Mr Gates
Year 10 Miss Chippindale
Year 11 Miss Rennie
For immediate concerns please call 0191 421 2244 or 0191 607 8063
OR... contact safeguarding.heworth@consilium-at.com
OR...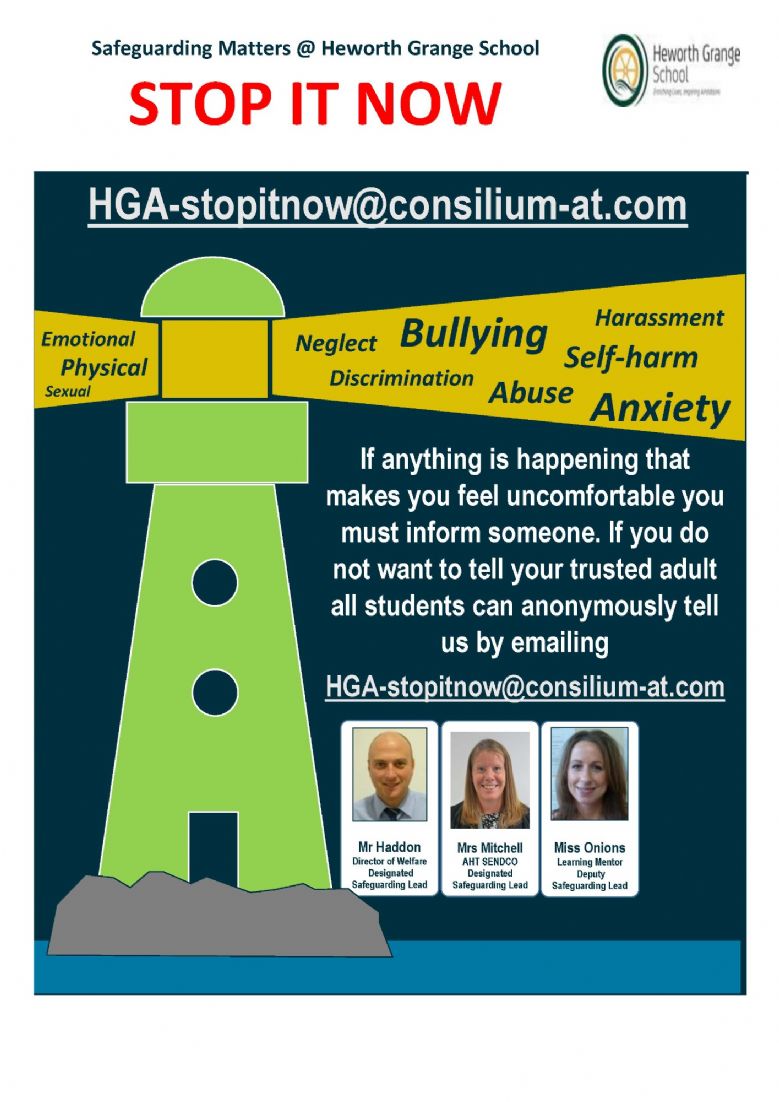 OR... To report an incidence of bullying at Heworth Grange School, please complete the form and a member of staff will be in touch as soon as possible.
Full details of all our anti bullying measures are contained in the policy below: