Heworth Students Unveil Murals Dedicated to Local Community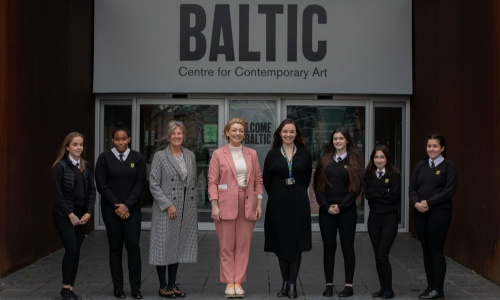 Students from Heworth Grange School have unveiled a variety of murals to adorn the walls throughout the school building to celebrate our local community. The initiative, in partnership with Baltic Centre for Contemporary Arts, saw students work with professional artist, Theresa Easton, to create pieces of art that represented them, as well as the community which they are a part of.
The scheme, facilitated by Baltic, was in response to the Covid-19 pandemic and the disruption this has had over the last two academic years. Additionally, Heworth and Baltic recognised that due to school bubbles and remote learning, students had been unable to receive art lessons in class for much of this time, resulting in a lack of practical lessons and the chance to express themselves through art.
In the workshops, run by Baltic, students were able to learn new skills, gain experience of working with practicing artists, and be together in a shared space again. Alongside these benefits, the project looked to instil pride of the local community, while encouraging creativity within the students and giving them the collective ownership of the final artwork produced.
The workshops and final art murals were made possible with the generous support of five national and international businesses who have headquarters in the North-East, including Cintra HR.
Eric Dunmore, Executive Chair at Cintra said: "We are delighted to support Heworth Grange School pupils to create this commemorative mural under the guidance of a professional artist. We hope the project has and will continue to inspire young people to spark creativity, conversation, and togetherness through art."
Mrs Denholm, Headteacher at Heworth Grange said: "I am so proud of the murals created by our students. They make such an impact on the walls of the school."
"As Headteacher of Heworth Grange School, I am passionate about giving our students fantastic educational opportunities and this project is just one of many examples of this. I'm sure this experience has been inspiring for our students, and we will continue to provide them with ongoing opportunities throughout their academic journeys."